The 4 exercises that will make you feel fit before Summer ends!
Basic exercises that will tone your thighs, glutes, core, arms, and back. You can do them at the gym or at home!
Regular physical activity is one of the key elements of maintaining general well-being and maintaining weight successfully.
Even though summer is slipping away, taking care of your body is still just as important. Regular exercise can also help you stay healthy in the colder months.
If you want to come back to your new year's resolutions or just brush some stay-at-home/summer/stubborn fat off your body frame, try the SlimJOY 4 exercises programme!
These are basic exercises that anyone can do.
It only takes 5 minutes per day - but you can do more if you feel comfortable.
The exercises work your whole body, including core and back which is very important for good posture and staying safe during other exercises.
Because they alternate between upper and lower body activity, you will regenerate and advance faster than you would otherwise.
It doesn't have to be the only exercise you get during the day, but the exercises work even on their own.
The programme follows a "start-small" logic, which means it won't overburden your body like a more intensive or demanding training might.
They can be performed at home, in the gym, outside or in a hotel room.
They combine core, cardio and strength.
They are designed so your body never gets used of specific moves and keeps you on your toes.
L-Carnitine Pure 1000
Shape and tone your body with the purest L-Carnitine on the market!
-20%
Regular price: £19.99
Your price: £15.99
× Close
Only 4 exercises can do all that?
Yes, 4 exercises – every day, for a month, can bring remarkable results:
Lose weight

Improve fitness

Get more oxygen into your blood
No matter if we're total beginner or we're just trying to get back in shape, remember to start small!
Shake'n'Shape
All-in-one slimming shake that helps curb hunger, decrease calorie intake, boost energy levels and tone the body.
-20%
Regular price: £24.99
Your price: £19.99
× Close
Fitness specialists do not recommend doing more than 3-4 exercises per day.
Exercise doesn't have to be complicated or too demanding.

What is important is that you exercises mindfully and with good form.

Rather than timing yourself, it is better to count repetitions. This allows you to exercise at your own pace and add a few repetitions if the exercise seems to easy.

Doing your exercises in a form of cyclic training revolves around repeating same exercise long enough to build strength and endurance. After enough repetitions, a mini break follows and the whole cycle, set, repeats itself for 1-4 times.

If you're on a ground base of building your fitness, do as many sets as you can and rather increase intensity next month.
Keep a glass of water nearby and take a sip during breaks.

Try to invest another minute of your time and stretch after working out. This should reduce muscle pain and relax your body.
How does the programme work?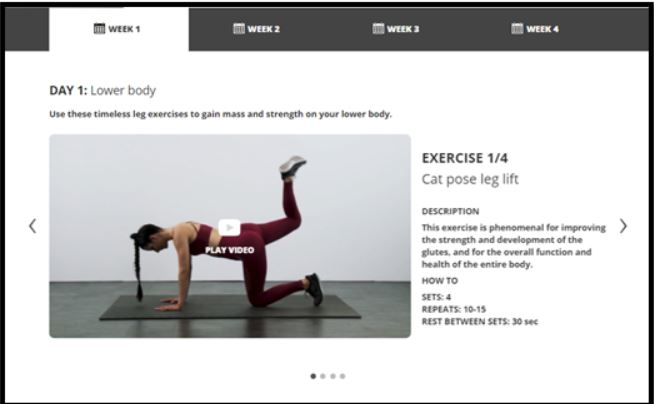 The SlimJOY 4 exercises is a system of 4 daily exercises with video and instructions about sets, repetitions and breaks.
It gives you ALL the information a good fitness coach would give you, that's why we call it the SlimJOY Gym!
It's 100% online and works on all the screens so you can do it anywhere.
It's so easy to understand and easy to memorise so that you can do the exercises on the go if you want to.
Everything is organised into a 28-day schedule so that you can embrace the challenge and exercise every single day, if you want to. Your best-self is waiting for you at the finish line.
Want to try the

SlimJOY

GYM?
All gym users get a discount code!
Back to blog