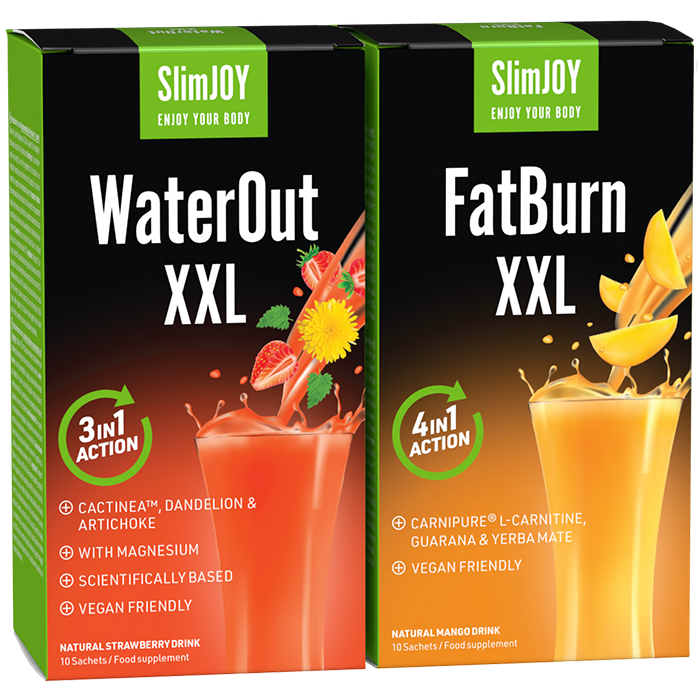 Food supplement with sweeteners
*Disclaimer: The effects of the product may vary between individuals and could differ from those described on the website.
"It does everything it promises! It has a thermogenic effect, suppresses the feeling of hunger and boosts energy, which suits me perfectly as I like to use it before exercising. No complaints!"
"I measured myself today and couldn't believe my eyes. In 8 days I lost 5 cm around the waist and hips. I'd gladly recommend it!"
"It will eliminate toxins, help us lose those extra pounds and reduce cellulite! If you ate too many treats over the holidays and now your clothes feel tight, AquaSlim EXTREME can help you lose weight and feel less bloated."
"A cup of AquaSlim with my breakfast to reduce bloating!"
"Girls, you won't believe how good AquaSlim EXTREME is! It's a natural diuretic that helps reduce toxins!"
"Those who know me a little know that once I start eating, I can't stop... and what happens next? I feel terrible after I eat, I feel bloated and I start retaining fluids... That's why I'm now trying to eat healthy and I've decided to include a drink that fights water retention to my daily routine. It tastes great, has many amazing effects and the ingredients are ALL natural!"
"Warmer months are almost here and I think everyone will agree that having a nice and slender figure is every girl's dream. AquaSlim EXTREME reduces water weight, boosts weight loss and also tastes good, which is a big plus."
"These products have changed my life. I now have a healthier life and healthier habits."
"I wanted to lose the weight I gained over the summer. It was the perfect opportunity to test this amazing product, which helped me a lot, especially when it comes to bloating and swelling!"
"Taking a look back at my experience with SlimJOY - the delicious flavour of raspberries meant it was a real pleasure to drink every morning."
"I recently decided to include this SlimJOY product in my routine! It's a truly exceptional natural diuretic with a 3-in-1 effect! It helps eliminate excess water, reduce bloating and helps you say goodbye to cellulite in no time! Just what we girls need!"
FREE GIFT: 28-DAY WEIGHT-LOSS PLAN
WEIGHT-LOSS GUIDE (e-book)
LOW-CARB MEAL PLAN (e-book)
AT-HOME VIDEO WORKOUTS
Rapid Weight Loss [15-Day Bundle]
Turns any activity into a fat burning session and speeds up results! The strongest natural diuretic on the market for a flatter stomach in no time.
The best formula for a toned body in no time! The winning combination of a powerful fat burner and the strongest diuretic on the market. A beautifully shaped body in 15 days!*
boosts fat burning by 24%*
boosts energy and increases calorie burning
eliminates excess water and harmful toxins
reduces swelling and bloating by up to 60%*
reduces cellulite
Since some SlimJOY products are undergoing a re-design, some packaging you receive may differ from the packaging visible in the product pictures on our website. It is, however, still the same product.
Contents: 1x Rapid Weight Loss [15-Day Bundle] 25 bags/15 days
-

58

% discount

+ Free delivery
Free delivery
Special price
£21.99
Regular price
£51.96