Build Muscle Fast [15-Day Bundle] + Exercise Band
This bundle is for you if you have time in your daily routine for regular physical activity.
The strongest fat burner on the market, FatBurn EXTREME, will ensure that the results of your workouts are maximised and regeneration is optimal. AquaSlim EXTREME will help you flush out excess water.
Visible results within 15 days!*
+ a FREE gift:
Exercise Band - won't roll or slip! Intermediate level of resistance – suitable for all!
FREE GIFT

The ultimate e-book for faster weight loss and free access to a 4-week video exercise programme!
30-Day Money-Back Guarantee
If for any reason you are not completely satisfied, simply return the empty package and get a full refund. More
Buy
Try
Return
Money back
Are you only just beginning your weight-loss transformation? Or maybe your weight-loss progress has reached a plateau? Does stubborn fat still cling to your problem areas? Are you waking up bloated and puffy? Kill two birds with one stone! Find out how below.
People all over the world love SlimJOY!
"I'm very excited because I already lost a couple of centimetres around my stomach and my legs, but mainly I don't feel as bloated anymore. It's especially noticeable in my face, where puffiness is most apparent. It really works!"
"I won because I lost the most weight: in 28 days, I lost 11 kilograms and 16 cm around the waist."
"I noticed the first results within five days. I felt less bloated and I started waking up feeling lighter and full of energy!"
"I measured myself today and couldn't believe my eyes. In 8 days I lost 5 cm around the waist and hips. I'd gladly recommend it."
"Summer is over, but we can't give up! Lets increase our efforts to stay in shape... We have to keep our metabolism awake!"
"It will eliminate toxins, help us lose those extra pounds and reduce cellulite! If you ate too many treats over the holidays and now your clothes feel tight, AquaSlim EXTREME can help you lose weight and feel less bloated."
"After a few months I finally managed to reach my goal of losing 10 kilos."
"After a month, I noticed I lost 6 kg. I discovered that my old clothes became looser and that I needed to size down."
"This is a strong natural diuretic, so if you have problems with water retention (due to hormones, stress, salty food or genetics) try AquaSlim EXTREME. If you take it regularly, bloating and swelling of the stomach, arms, legs and face can disappear within days."
"Warmer months are almost here and I think everyone will agree that having a nice and slender figure is every girl's dream. AquaSlim EXTREME reduces water weight, boosts weight loss and also tastes good, which is a big plus."
"AquaSlim EXTREME has helped me flush out excess water! I now feel much lighter and my body looks much leaner! I'd definitely recommend it to everyone!"
"I noticed a change in my body after two days! I have more energy and I'm a lot fitter!"
The powerful combination of AquaSlim EXTREME and FatBurn EXTREME helps:
shed excess water and toxins that often block or slow down effective weight loss
burn more fat at a faster rate, making exercise more effective
reduce the size of waist, calves and ankles
raise energy levels, without annoying caffeine jitters

You get a FREE Exercise band

Exercise band - thick, durable and wide. Perfect for use at home or at the gym. Thanks to its wide design (7.5 cm wide) and cotton + rubber fabric mix it offers more stability and even resistance. It won't roll or slip up and down your legs like regular exercise bands!
Get real results
Studies show that SlimJOY products:
aid weight-loss
help reduce the size of waist, ankles and calves
can amplify weight-loss efforts can help burn fat reserves at a faster rate
WORK OUT WITH OUR RESISTANCE BAND


The perfect combo to give you that extra push!
In order to give you those top results you deserve, we are committed to using only top ingredients. All the extracts used were manufactured in accordance with the highest quality and safety standards in modern European production facilities.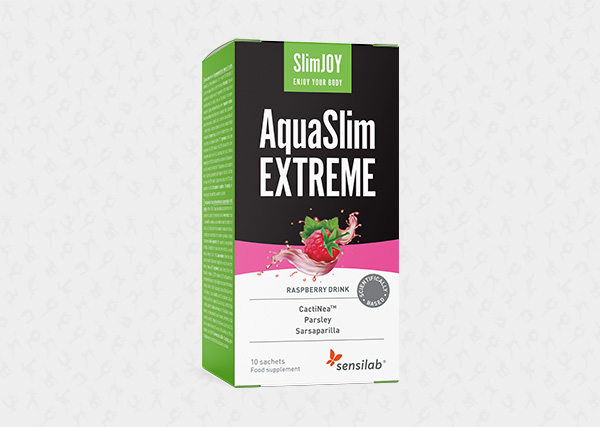 AquaSlim EXTREME - natural diuretic that kick-starts the weight-loss process and detoxifies your body
Studies have shown that consumers can lose significant amounts of water weight during the first phase of using AquaSlim EXTREME. It is designed to eliminate excess water, cleanse the liver and stimulate the lymphatic system.
Alongside parsley, artichokes, milk thistle and Java tea extracts, this natural blend contains CactiNea™ and SensiDrain™ that have impressed the majority of our customers. The safest and most essential detox for your body! FatBurn EXTREME - Carnipure™ powered fat-burning drink with the purest form of L-carnitine
FatBurn EXTREME slightly raises the body's internal temperature which accelerates fat burning. It can increase the effectiveness of exercise and boost weight-loss efforts.
It contains natural ingredients such as guarana seed and mate tea extracts which can boost the metabolism and increase the rate of fat burning, as well as vitamin B3 which can naturally improve energy levels.
Get free access to the online gym & the slimming e-book with your purchase!
Get a free e-book with delicious weight-loss recipes and a ton of tips and tricks on how to get in shape. We also developed a free 4 -week video exercise programme to tone your whole body.
Combine with our premium SlimJOY products for faster results!
Food supplements
Ingredients:
AquaSlim EXTREME: prickly pear fruit powder with 0,05% betalains and 0,03% indicaxanthin, carrier: acacia gum, parsley leaf extract, sarsaparilla root extract, hibiscus flower extract with 10% total polyphenols, watermelon fruit juice powder, cat's whiskers leaf extract with 2% potassium, natural raspberry flavour, raspberry puree powder, acidity regulator: citric acid, artichoke leaf extract with 2,5% cy, red grape marc extract with 90% total polyphenols and 18% OPC (content of sulphites > 10 mg/kg), anti-caking agent: rice concentrate, sweetener: sucralose.
FatBurn EXTREME: Carrier: acacia gum, Carnipure®️ [L-carnitine L-tartrate], green mate leaves extract with 8% caffeine, guarana seed extract with 10% caffeine, papaya mature fruit juice powder with 6 USP units/mg proteolytic activity of papain, natural mango flavor, nicotinamide, anti-caking agent: rice fiber, acidity regulator: citric acid, sweetener: sucralose.
USE:
AquaSlim EXTREME: Dissolve 1 sachet a day in 1 litre of water and drink over the course of the morning. We recommend drinking plenty of fluids throughout the day.
FatBurn EXTREME: The recommended daily dose is 1 sachet dissolved in a glass of water after a meal. For optimal results, take it 30-60 minutes before physical activity.
WARNING:
If you are hypersensitive or allergic to any of the product ingredients or use medication, consult your doctor before use. This product is not recommended for pregnant or breastfeeding women.
IMPORTANT:
The recommended daily intake should not be exceeded. Food supplements should not be used as a substitute for a varied, balanced diet and a healthy lifestyle, which are important.
STORAGE:
Keep out of the reach of children! Store in a dark, dry place and at temperatures below 25°C.
Scientific studies:
1. Pouyandjoo, Morvarid & Nouhi Jadesi, Mojtaba & Shab Bidar, Sakineh & Djafarian, Kurosh & Olyaeemanesh, Alireza. (2016) The effect of (L-)Carnitine on weight loss in adults: A systematic review and meta-analysis of randomized controlled trials. Obesity Reviews. 17. 10.1111/obr.12436. Available at: https://www.researchgate.net/publication/303107660
2. Müller DM1, Seim H, Kiess W, Löster H, Richter T. (2002). Effects of oral L-carnitine supplementation on in vivo long-chain fatty acid oxidation in healthy adults. Metabolism. 2002 Nov; 51(11): 1389-91.Available at: https://www.ncbi.nlm.nih.gov/pubmed/12404185
3. Wutzke KD1, Lorenz H. (2004). The effect of l-carnitine on fat oxidation, protein turnover, and body composition in slightly overweight subjects. Metabolism. 2004 Aug;53(8):1002-6.Available at: https://www.ncbi.nlm.nih.gov/pubmed/15281008
Build Muscle Fast [15-Day Bundle] + Exercise Band