Paulo: "I like looking in the mirror now and seeing that my clothes fit me better."
Paulo works at the airport. He is quite tall and has always had a tendency to put on weight. When he reached 107 kg, he knew it was time to make a change – and now, he's nearing his goal of losing the fat and building muscle mass instead.
Keep reading to learn how he did it!

"I don't regret a single penny"
Paulo was growing increasingly unhappy about his weight: "I was tired of looking in the mirror and feeling unhappy with my appearance. I lacked energy and even tying my shoes was difficult."
"I found out about your brand through Facebook. I took the risk of trying it and don't regret a single penny."
"What motivated me to try was my desperation to lose weight. Then I read all the positive comments from other customers, which convinced me even more."
DID YOU KNOW…?
Late-night snacking can be very detrimental to weight-loss progress. If you can't avoid it, reach for healthier alternatives – these are nutrient-rich foods you won't need to eat much of to feel satisfied. Good options include fruits, nuts, plain yoghurt and cottage cheese.1 Luckily, we offer food supplements that can also help keep hunger pangs at bay.
Paulo lost 7* kg in a month!
After getting some help from one of our customer support agents, Paulo had a bit more direction: "I tried several products I really loved NightBurn. Altogether, I've been using these products for a year now."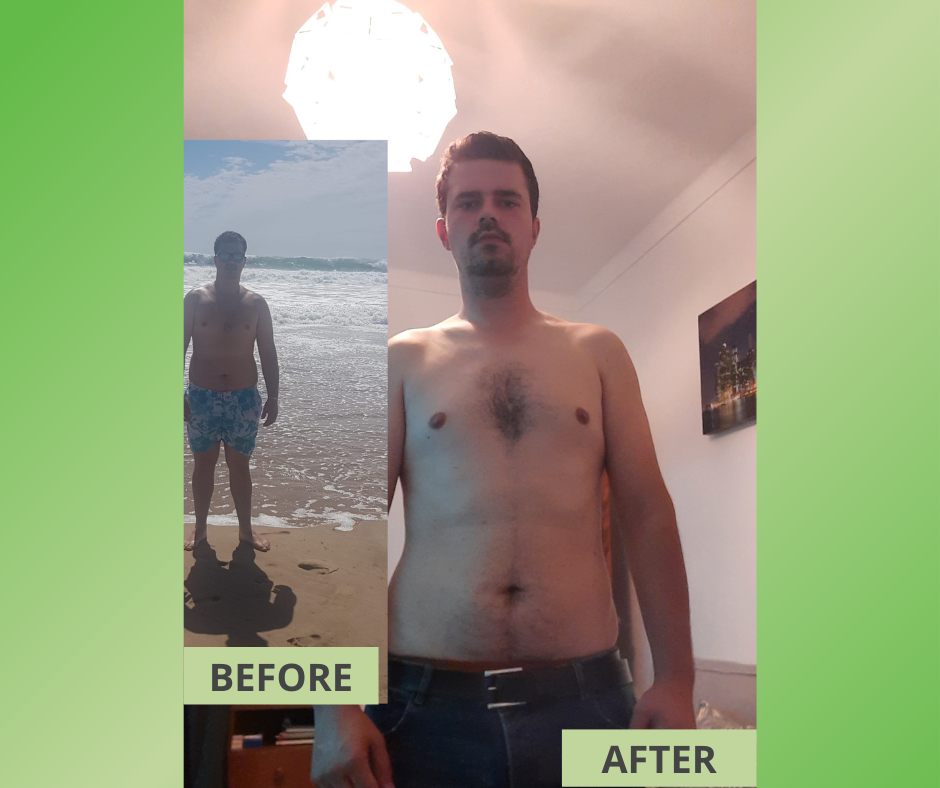 And it didn't take long to see progress: "After 1* month, I noticed a huge difference. I went from 107* kg to approximately 100* kg."
DID YOU KNOW…?
Studies have shown your sleeping habits can affect weight loss. During sleep, your body draws on fat stores, which means – the longer and better you sleep, the more fat you burn!2
"5* stars!"
"The biggest improvement was the reduction in appetite. And with that of course came everything else, like self-esteem and fitting into a smaller clothing size."
Paulo is now feeling very positive about his body: "5* stars! I like looking in the mirror now and seeing that my clothes fit me better."
"This has changed everything. I'm feeling better about myself, feeling more energised, and I'm able to be more active."
Supercharge your nighttime weight loss with NightBurn EXTREME
NightBurn XXL not only helps improve sleep, crucially, it also helps boost nighttime fat burning – this means that we can lose more weight during sleep!
Helps shrink the waistline
Reduces late-night cravings
Improves sleep
No stimulants to disturb sleep
All this with the power of incredible natural ingredients: water-soluble fibre, Garcinia Cambogia, vitamin B6 and more!
Join over 400,000 satisfied NightBurn customers and get a special bundle deal now!
*Disclaimer: The effects of the product may vary between individuals and could differ from those described on the website. Our products are not intended to prevent, treat or cure any disease or serious illness. Maintaining a balanced diet and a healthy lifestyle is important.
Sources:
1 West, H. (2021, July 16). 10 clever ways to stop eating late at night. Healthline. Retrieved July 5, 2022, from https://www.healthline.com/nutrition/10-ways-to-stop-eating-late-at-night
2 Sivak M. Sleeping more as a way to lose weight. Obes Rev. 2006 Aug;7(3):295-6